Thank you for joining us for our Christmas Faithbooking Challenge! This year, our theme is "The 12 Days of Christmas". We've all heard this song growing up, but I never realized that each verse of the song also had a Biblical meaning.
So, over the next few weeks, we will be exploring the Biblical meanings of each verse of the song and you are to create a layout which shows what it means to you. Each week you will be presented with the traditional verse, it's Biblical meaning, and a free mini kit that you can use to create your layout. You are not required to use the kit, but it's being made available to you as a free gift.
After the 12 weeks is over, you should have a beautiful reminder that you can share with your family every Christmas as to what the Biblical meanings are for "The 12 Days of Christmas"!
This week's challenge is hosted me, Eva Lindqvist, from
Eva Lindqvist Design
and features the second verse:
On the second day of Christmas,
my true love sent to me
Two turtle doves,
And a partridge in a pear tree.
Since I'm not American, I didn't hear this song when I was a kid. The first time I heard was just a couple of years ago, and I thought it was the weirdest Christmas song ever! Then I learned that every verse has a secret meaning, and now I really like it.
The two turtle doves refers to the Old and New Testaments - the great gift we have gotten from God. We all have our favorite scriptures, and I'm sure you can do something special for this challenge!
Here's a scripture that I really think says all about the Old and New Testament:
All scripture is given by inspiration of God, and is profitable for doctrine, for reproof, for correction, for instruction in righteousness
2 Timothy 3:16
For a limited time, you can download this digital mini kit for FREE!
Don't forget to join in on the discussion about this challenge by visiting "The 12 Days of Christmas Faithbooking Challenge" topic in
our forum!
We hope that you will join us in creating this keepsake for your own family! We would love to see what you do! Please upload your creations in
our gallery
!
Here are some of the layouts our fabulous CT has created with our week 2 theme: Two Turtle Doves:
Natalie:
Michele: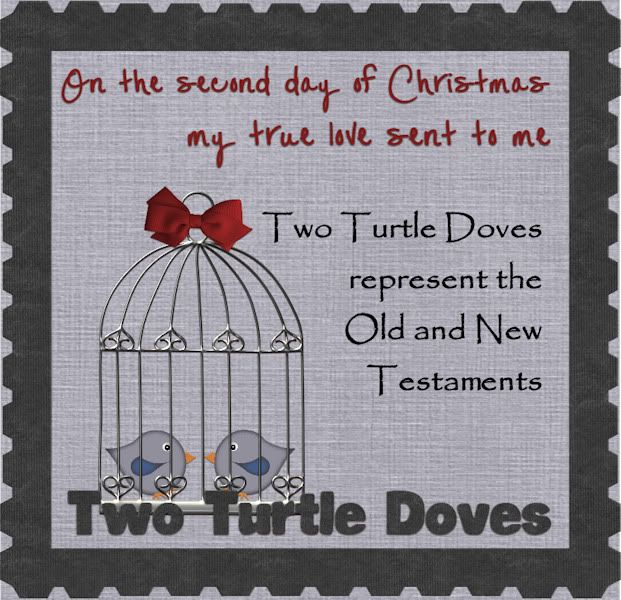 Heather:
Theresa: