Thank you for joining us for our Christmas Faithbooking Challenge! This year, our theme is "The 12 Days of Christmas". We've all heard this song growing up, but I never realized that each verse of the song also had a Biblical meaning. We have explored the Biblical meanings of each verse of the song and a lot of you have created layouts which show what it means to you.
This is the
LAST WEEK
you will be presented with the traditional verse, it's Biblical meaning, and a free mini kit that you can use to create your layout. You are not required to use the kit, but it's being made available to you as a free gift for a limited time only. After the 12 weeks are over, you should have a reminder that you can share with your family every Christmas as to what the Biblical meanings are for "The 12 Days of Christmas"!
12th Day:
The 'twelve drummers drumming" were the twelve points of belief expressed in the Apostles' Creed: belief in God the Father, the Son and the Holy Spirit, that Jesus Christ was born of the Virgin Mary, made man, crucified, died and arose on the third day, that he sits at the right hand of the father and will come again, the resurrection of the dead and life everlasting.
(12 Drummers Drumming refers to the twelve points of doctrine in the Apostle's Creed)
On the twelfth day of Christmas,
my true love sent to me
Twelve drummers drumming,
Eleven pipers piping,
Ten lords a-leaping,
Nine ladies dancing,
Eight maids a-milking,
Seven swans a-swimming,
Six geese a-laying,
Five golden rings,
Four calling birds,
Three French hens,
Two turtle doves,
And a partridge in a pear tree!
This final challenge has 2 mini kits, from
Sweet Tomato Designs
and
Digital Designs by Lisa
.
Here are some examples of pages made by our Creative Team Members:
By Heather:
By Judy: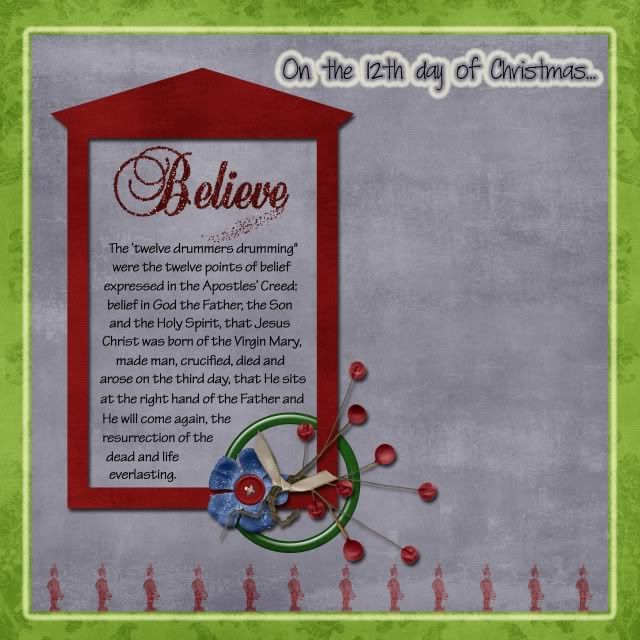 By JackieAnn:
By Kim:
Please upload your creations in
our gallery
! We love to see what you do!